La XX edizione delle Finali Internazionali il 15-17 ottobre a Castelletto.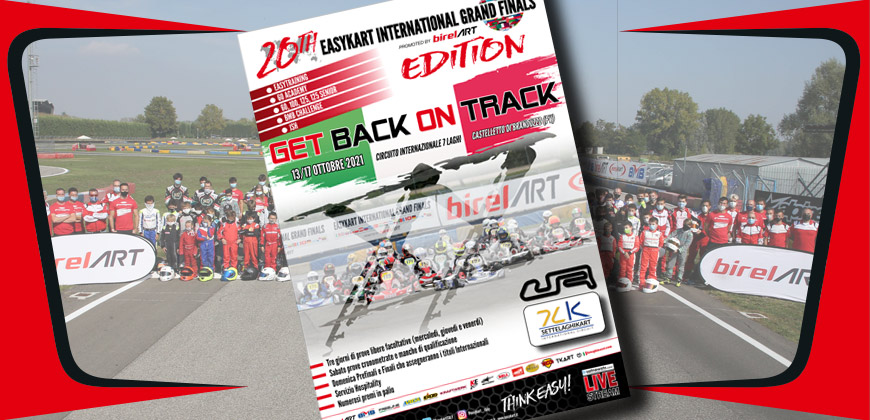 Dopo l'entusiasmante conclusione dell'Easykart Trophy nel secondo weekend di settembre con la proclamazione dei vincitori nazionali, continua il countdown verso la Finale Internazionale 2021, edizione che assumerà quest'anno un significato molto particolare, dal sapore storico: quella che andrà in scena al "7 Laghi Kart" di Castelletto di Branduzzo (Pavia) dal 15 al 17 ottobre sarà, infatti, l'edizione numero venti della storia Easykart.
Le iscrizioni devono essere fatte esclusivamente on-line sul sito www.easykart.it entro e non oltre martedì 5 ottobre. Non sarà possibile iscriversi in pista. Il ticket pista per le prove libere del venerdì va acquistato in fase di registrazione on-line, mentre per l'acquisto del ticket per i test organizzati nei giorni precedenti l'evento bisognerà contattare il management della pista.
Una volta confermata l'iscrizione on-line, verrà inviata una e-mail contenente una copia dell'autocertificazione, da compilare con i numeri dei telai e dei motori, che va consegnata in sede di verifiche sportive. Tutte le informazioni sui costi delle iscrizioni posso presenti qui: https://www.easykart.it/dettaglio-news.asp?id=192.
Per TUTTE le persone presenti all'interno dell'area protetta "7 Laghi Kart" (paddock, aree comuni, locali chiusi) sarà obbligatorio il ritiro del "braccialetto green pass" attraverso l'esibizione del green pass nelle modalità previste dal Decreto Legge, oppure attraverso la presentazione dell'autodichiarazione, scaricabile dal seguente link https://7laghikartitalia.it/stagione-in-corso/easykartgrandfinals2021/, debitamente compilata.
Nella sezione "Download" presente al termine della news è possibile trovare tutti i moduli da compilare e inviare a info@7laghikart.it entro domenica 10 ottobre. (Modulistica che può essere scaricata dal sito nella sezione dedicata alla Finale Internazionale - Maggiori informazioni in allegato).
Oltre alla partecipazione di piloti che gareggiano nei diversi Trofei Easykart nel mondo, tra cui Portogallo, Repubblica Ceca, Ungheria, Polonia, Svizzera, Venezuela, Colombia, Panama, e oltre ad assegnare, di conseguenza, i titoli internazionali, le Grand Final rappresentano da sempre un momento di unione e di grande festa per tutto il paddock -caratteristica che rende unica e speciale ogni edizione.
Quella del 2021, oltre a essere la ventennale, rappresenterà la prima della "ripartenza" post-covid: il weekend di gara si aprirà con la giornata del venerdì con le prove libere ufficiali, le verifiche sportive, il montaggio gomme in parco chiuso e le tradizionali interviste pre-gara che poi intratterranno il paddock Easykart sui canali social ufficiali del Trofeo nel corso dell'inverno.
Il programma del sabato prevede le sessioni di prove cronometrate, le manche di qualificazione e la foto di gruppo sul rettilineo principale. Una volta conclusa l'azione in pista, tutta l'attenzione si sposterà all'interno del paddock per il riconoscimento ufficiale dei campioni dell'Easykart Trophy e la premiazione "Pole Position Vega" degli Easydriver che avranno ottenuto la pole position in qualifica. Inoltre, verranno consegnati i premi ai primi tre classificati dell'evento internazionale dedicato alla Junior Shifter a Wackersdorf (Germania), disputatosi in occasione del round di apertura dell'Easykart Euro Trophy dello scorso 3 luglio. Al termine della cerimonia tornerà il nostro ApEasy, l'aperitivo targato Easy. Domenica, infine, sarà la giornata "più importante" dell'intera stagione con le prefinali e le attesissime finali che assegneranno i titoli internazionali.
Oltre alla premiazione internazionale della Junior Shifter e alle ormai storiche Easykart 60, Easy 100, 125, Senior e BMB Challenge, scenderà in pista la neonata Easykart 60 Academy e torneranno a "gareggiare" nello stesso weekend di gara anche i baby driver dell'Easytraining. In via sperimentale, ACI Sport ha permesso ai piloti stranieri, sotto la supervisione della scuola federale, di partecipare in entrambe le categorie Easytraining e 60 Academy.
Tornerà anche il servizio hospitality, usufruibile da giovedì sera (posti limitati): l'accesso all'hospitality è possibile solo con green pass ed è obbligatoria la prenotazione. E' possibile acquistare il "pacchetto per team" con priorità sulla prenotazione e prezzi agevolati. Info e prenotazioni: CHIAPPONI MASSIMO 335/8103141 - maxchiapponi@libero.it
Un sentito ringraziamento va ai nostri partner e sponsor della manifestazione, senza i quali non sarebbe possibile lo svolgimento stesso: Birel ART, Vega, Exced, Alpinestars, Vroam, Kraftwerk, Ke Technology, Vroom, Tkart, Nani Rizzi, Val de Cune, Zanotto Col Fondo.
Per info e prenotazioni paddock contattare il management della pista:
---
7 LAGHI KART
Bressana Salice Terme 6/A
Castelletto di Branduzzo
27040 – Pavia – Italia
T: +39 0383 895524 - F: +39 0383 895660
M: +39 333 5882182 (orario ufficio)
Email: info@7laghikart.it
---
Ci vediamo in pista. Stay racing, stay happy… and think Easy!
DOWNLOAD:
TRACCIATO PISTA | BENZINAIO | RICHIESTA INGRESSO PILOTA ACCOMPAGNATORI | RICHIESTA INGRESSO TEAM |
MODALITA' DI ACCESSO ALL'EVENTO | EQUIPAGGIAMENTO DI SICUREZZA | AUTODICHIARAZIONE
INVITO PREMIAZIONE + APERITIVO | FLYER HOSPITALITY | POSTER | POLE POSITION VEGA
---
It's the Grand Finals countdown: the XX edition of the Grand Finals on October 15-17 in Castelletto
After the exciting conclusion of the Easykart Trophy on the second weekend of September, when we crowned the national winners, the countdown continues towards the 2021 International Grand Finals, an edition that will have a very particular meaning, with a historical connotation: this year's "big one" at the "7 Laghi Kart" in Castelletto di Branduzzo (Pavia) from 15 to 17 October, in fact, will be the 20th edition of the Easykart history.
Registrations must be exclusively made on-line on the website www.easykart.it by Tuesday October 5th. It will not be possible to register on track. The "track ticket" for Friday's free practice must be purchased during the online registration while for testing on the previous days please contact the track management.
Once your online registration is confirmed, an e-mail will be sent with a self-certification form to be filled in with the chassis and engine numbers and it must be delivered during the sporting checks. All the info about costs can be found here: https://www.easykart.it/dettaglio-news.asp?id=192.
EVERYONE in the "7 Laghi Kart" protected area (paddock, common area, closed areas) must collect the "green pass bracelet" by showing the green pass in the manner provided by the law or by presenting the completed self-declaration, which can be downloaded from the following link https://7laghikartitalia.it/stagione-in-corso/easykartgrandfinals2021/. In the "Download" section after the news, you can find all the forms to fill in: they must be sent to info@7laghikart.it by Sunday October 10th. (The forms can be downloaded from https://7laghikartitalia.it/ in the "International Final" section – More info in the attached files).
In addition to the participation of drivers competing in the Easykart Trophies around the world, including Portugal, Czech Republic, Hungary, Poland, Switzerland, Venezuela, Colombia, Panama, and to assigning, as a result, the international titles, the Grand Finals have always been a moment of friendship and great celebration in the paddock -a feature that makes each edition unique and special.
This year's Grand Final, in addition to being the twentieth edition, will be the first one of the "post-covid" era: the race weekend will begin with Friday's official free practice sessions, the sporting checks, the tyre mounting at the parc fermé and the traditional pre-race interviews that will entertain the Easykart paddock on the Trofeo's official social media channels during winter.
The schedule for Saturday includes the timed practice sessions, the qualifying heats, as well as the official group photo session on the main straight.
Once the track action will end, all the attention will move to the paddock for the prize-giving ceremony, which will officially award the Easykart Trophy champions and will assign the "Pole Position Vega" award to the Easydrivers who will have achieved pole position in qualifying. Furthermore, a special prize will be awarded to the three drivers who finished the Junior Shifter international event, organised in Wackersdorf (Germany) on the occasion of the Easykart Euro Trophy opening round that took place on July 3rd, on the podium. At the end of the ceremony, our ApEasy happy hour will return. Finally, on the "most important" Sunday of the whole season, pre-finals and the highly awaited Finals will assign the international titles to the winners.
In addition to the Junior Shifter prize-giving ceremony and the historic categories such as Easykart 60, Easykart 100, Easy 125, Easy Senior and BMB Challenge, the baby drivers of the new-born Easykart 60 Academy will race alongside the children of the Easytraining, who will hit the track on the same race weekend of the other classes for the first time this year. On an experimental basis, ACI Sport will allow foreign drivers to take part to the race in both 60 Academy and Easytraining -under the supervision of the federal school.
The hospitality service will be available again and it can be used from Thursday evening onwards (limited seats available): the access to the hospitality is only granted with a green pass and reservations are required. It is possible to purchase the "team package" with a priority on booking and discounted prices. Info and reservations: CHIAPPONI MASSIMO 335/8103141 - maxchiapponi@libero.it.
A heartfelt thank-you goes to our partners and sponsors of the event, without whom it would not be possible to hold the event: Birel ART, Vega, Exced, Alpinestars, Vroam, Kraftwerk, Ke Technology, Vroom, Tkart, Nani Rizzi, Val de Cune, Zanotto Col Fondo.
For info and paddock reservations, please contact the track management:
---
7 LAGHI KART
Bressana Salice Terme 6/A
Castelletto di Branduzzo
27040 – Pavia – Italia
T: +39 0383 895524 - F: +39 0383 895660
M: +39 333 5882182 (office hours)
Email: info@7laghikart.it
---
See you on track. Stay racing, stay happy… and think Easy
DOWNLOAD:
TRACK | FUEL STATION | ADMITTANCE REQUEST FOR DRIVER/COMPANION | ADMITTANCE REQUEST FOR TEAM | ACCESS MODE TO THE EVENT | SAFETY EQUIPMENTS | SELF DECLARATION
AWARDS and APERITIF INVITATION | FLYER HOSPITALITY | POSTER | POLE POSITION VEGA